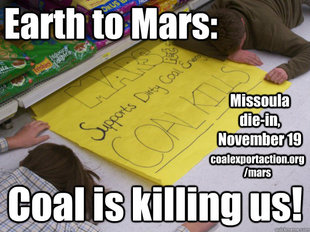 Today, organizers with the Coal Export Action in Montana are calling for a day of social media action that will help bring one of our newest campaigns – to get Forrest Mars Jr to withdraw his investment in the Tongue River Railroad coal project – to a new level.
This new effort to pressure one of the major investors in Montana coal exports is already getting off the ground.  Just yesterday, a group of activists in Missoula held a die-in in a supermarket pet food aisle where Mars products are sold (yes, Mars Inc owns several pet food brands).
No matter what state or country you live in, you can help take this campaign farther by copying one (or more) of the the below sample tweets, status updates, or memes and pasting them on Twitter, Facebook, or other social media.  The links direct people to where they can send an online message to Forrest Mars via Mars Inc.  The social media buzz we hope to generate today will help build a community of activists we can call on again to take action.
No doubt: the most important moments in our movement occur when people take direct action to challenge fossil fuel industries, as they've been doing lately from Montana to Texas and beyond.  But every once in a while, we need to harness online media to amplify the power of direct action.
Organizers in Montana are gearing up to start putting pressure on Mars in a big way in the months ahead, and to do that we need to build up our base of online support.  Help us do that by posting one of the below updates or memes on social media, and signing the petition if you haven't already done so!
Tweets:
Coal for the holidays? No thanks! http://bit.ly/noMarsTRR Sign the petition to tell @MarsGlobal: #NoCoalExports! #EarthtoMars
Hey @MarsGlobal: Stick to exporting candy, not dirty coal! http://bit.ly/noMarsTRR Sign and RT! #EarthtoMars #NoCoalExports
Facebook updates:
Earth to Mars: candy and coal don't mix! Sign this petition to support Montana agriculture, not coal trains and climate change! http://bit.ly/noMarsTRR
The Mars family legacy is financing coal exports.  Tell Forrest Mars Jr the world wants Mars to export candy, not coal http://bit.ly/noMarsTRR
Continue reading 'Today: Social Media Action Against Mars' Coal Investment'