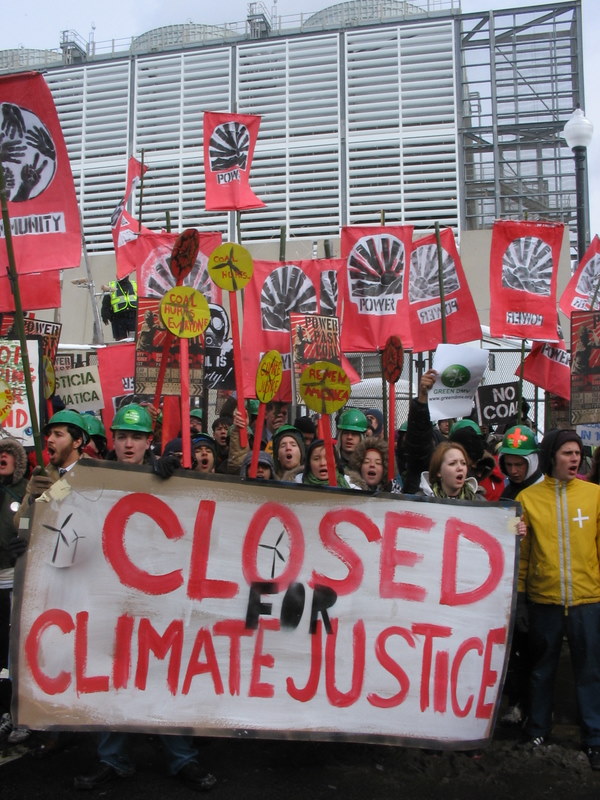 Lately in the climate movement I've been encountering an idea I believe is based on flawed assumptions: that the only real "solution" to the climate crisis is promoting clean energy and efficiency, while avoiding "problem-oriented" approaches like shutting down existing coal plants and stopping tar sands pipelines.  According to this way of thinking, the climate movement's best bet is to focus almost exclusively on saying "yes" to things we want, and seldom or never say "no."
I fully recognize the tremendous importance of working with communities to implement clean energy solutions.  I have huge respect and admiration for people who dedicate themselves to this kind of work.  If that's your calling, I'm behind you 100%.  But I can't and won't agree that having people who are willing to take a principled stand against dirty energy is any less a part of the solution than implementing alternatives to fossil fuels.  We will never build a real movement for climate justice without being willing to say "no."
If you don't believe me, imagine what would happen if every US climate activist focused only on renewables and efficiency, while declining to speak out against unjust energy.  The result would be a heyday for fossil fuels.  Relieved of the inconvenience of people willing to stand in the way of injustice, coal companies would finish blowing up the last Appalachians and converting the Powder River Basin to a wasteland.  Largely unopposed, Big Oil would build its long-sought network of pipelines linking the Canadian tar sands to US refineries, solidifying US oil dependence for the next several decades.
Meanwhile we'd be installing lots of solar panels and wind turbines.  But it wouldn't matter much, so long as fossil fuel companies could go their way unopposed and externalize the costs onto others.  When seen as one wing of a broader movement that also includes confronting injustice directly, renewable energy solutions are hugely powerful.  But if the climate movement becomes unwilling to condemn injustice where it exists, all the solutions we implement are for nothing.  They'll be swept away in the tide of dirty energy infrastructure fossil companies would build without principled opposition from our movement.
Perhaps more to the point, people on the front lines of the fossil industry's expansion can't afford a "yes-only" solution to climate justice.  If you live at the site of a proposed coal export terminal, simply promoting clean energy isn't a full solution to your problem.  That won't make the immediate issue of a pending dirty energy proposal go away.  I'm unwilling to abandon solidarity with front line communities, with the vague promise their problems will be alleviated "someday," when the tide of clean energy finally overwhelms fossil fuels completely.  For many people at the front lines, this day will come too late to save their livelihoods, health, and ability to survive.
No social movement has achieved success without directly confronting injustice.  Where would we be if leaders of the Civil Rights movement had avoided talking about segregation for fear of being called "too problem-oriented"?  What if Gandhi had decided condemning British rule would make the India liberation movement seem "too negative"?  Every movement must identify just alternatives while standing in the way injustices that exist.  Abandoning either side of the equation won't get us anywhere.
Gandhi urged his followers to harness the power of Satyagraha, translated as "truth force" or "soul force."  Acting with love and compassion, the Satyagrahis used nonviolent resistance to clog the wheels of the British empire, openly defying an unjust system while showing the way to a society based on moral values.  When arrested by the British in 1922 and tried for his "seditious" critique of the empire, Gandhi made the case for non-cooperation with injustice.  "In my humble opinion," he testified during his trial, "non-cooperation with evil is as much a duty as cooperation with good."
I can think of no better advice for the climate movement, where solutions will be found in standing up for clean energy while standing in the way of unjust systems.  Individual activists may of course decide to focus on one or the other piece of this equation.  But in losing sight of the need for both, we can only become ineffective.  Gandhi's movement liberated India by offering solutions while steadfastly opposing injustice.  Our movement must do the same thing.
Are there any Satyagrahis out there?