Last week, Brinkley Hutchings reported what she saw as she flew over the Gulf oil spill for her first time. Watch an astonishing aerial video of the slick shot by John Wathen as they flew from Brinkley's home to the source of the spill and back on May 7th.  She flew over it for a second time Monday. Watch the updated video from May 17th (Below).
I was shocked, once again, as I witnessed the lackadaisical cleanup efforts.  I know that an oil spill cannot be completely cleaned up, but there should at least be an honest and organized effort to do everything we can! I saw highly ineffective plastic booms along the Gulf Coast and a few boats scooping up very miniscule fractions of the spill. Some of the booms have floated ashore, crinkled up on the beach; some sit perpendicular to the shoreline; others are overturned by waves; some pieces of them have broken off and are floating lazily with the waves. The high volume flow of oil, certainly more than 5000 barrels per day, into the Gulf still hasn't been stopped. What is going on? Why isn't an effective, organized cleanup being mandated?! This is outrageous.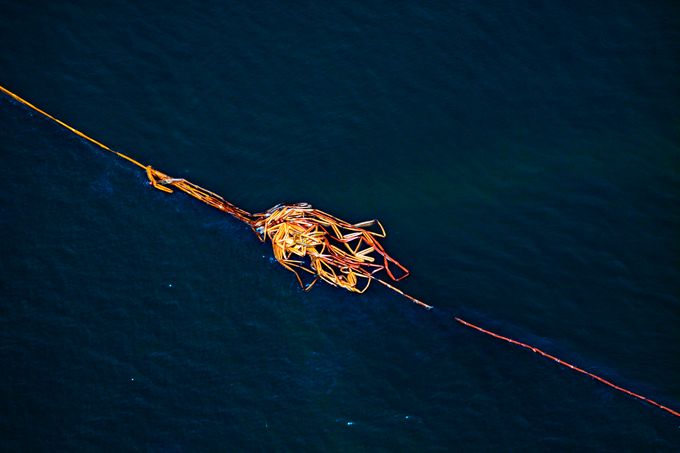 Several segments of the media are relying on erroneous information from BP and the Coast Guard in reporting the magnitude of the "ongoing cleanup" activities.  Even the National Oceanic and Atmospheric Administration (NOAA) has it wrong. NOAA currently indicates on their maps that there are areas of "potential beached oil" in Venice, Louisiana when there is definite beached oil, whose magnitude of which is far greater than what is depicted on the maps. I have seen it with my own eyes.
Our government's failure to hold corporations responsible has allowed the spill to run wild and completely out of control. Yes, get angry. It didn't have to get to this point. We had the cleanup solution to a spill of this enormity. In 1993, nearly 800 million gallons of oil were dumped into the Persian Gulf. They were not only able to prevent this spill from being an environmental catastrophe, but to also salvage 85 percent of the oil. Nick Pozzi, an engineer who worked on that spill, has been offering the lessons he learned to BP. The manager at BP in charge of this cleanup effort, told Pozzi simply not to bother him. BP will not even utilize the advice of educated and experienced scientists and engineers.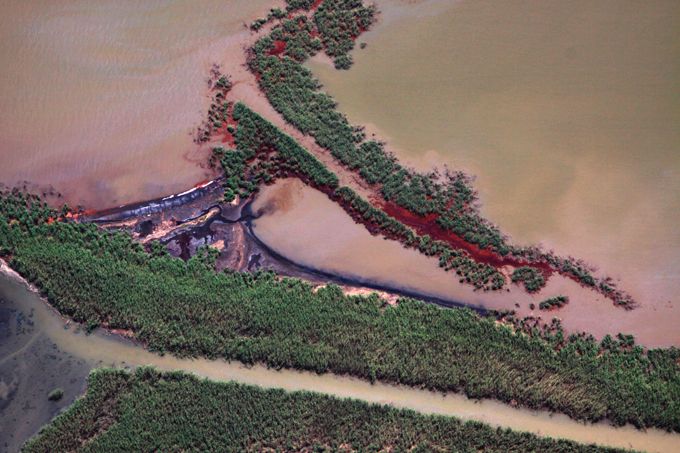 There should be someone other than BP directing the cleanup operation from the site of the spill to the threatened coastal estuaries. We are in a dire situation down here, and we need the most qualified people working on this spill.  We need all the help we can get here. It is going to be even more terrible as this slick continues to come onshore.
Please share my stories with all you know. We need this to be a massive wakeup call to the fact that our government is indeed run by the fossil fuel industries. We must stop this, and we need every one of us pushing as hard as we can for a clean energy economy.
Deep down, I am hopeful that positive change will come out of this if we all utilize our anger and momentum. Please know that we have a long, hard fight ahead.
Please stay strong and stay actively fighting with me.
Brinkley Hutchings
Video by John Wathen 5/17/10
Ways you can help:
Send a letter to the editor or host a rally
Contact Secretary Ken Salazar (202) 208-7351
Sample CALL SCRIPT: Hi, my name is _________________, I live in [city, state], and I want Secretary Salazar to stop Shell's Alaskan drilling and to ban ALL new drilling on US off US coasts.
Send us some hair booms to protect our shorelines