These are shocking images of police brutality from outside the Bella Center where the UN climate talks seem to be fracturing just hours before over 100 heads of state are scheduled to arrive to debate a climate deal. It's all the more striking to see the faces of some of our friends and co-workers in this video from CNN (it can't embed, but please do watch, it is striking footage) — please send your thoughts and prayers to those who are bravely taking part in today's demonstrations.
I'm writing from inside the negotiations  where the mood is getting tenser by the hour. The formal sessions have been delayed at the moment as diplomats supposedly work behind the scenes to move the process forward. In rooms around the building, many developing country delegations are meeting to discuss their endgame strategy and hold strong while the pressure from rich countries continues to mount (see this previous post on Obama's call to Ethiopia which may have resulted in its weak statements supposedly on behalf of Africa — echoed today in the formal negotiations). Speeches by more heads of state — including presidents from island nations and other vulnerable countries — are scheduled to begin again in a few hours.
More images below the fold.
from CNN: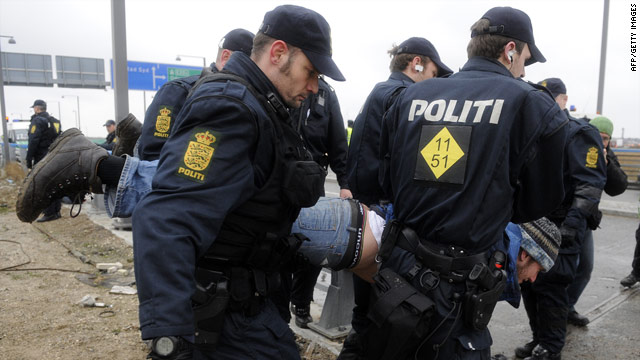 from AP:
It's hard to contrast these pictures with the usual image of bureaucracy here inside the talks: all suits and policy papers as far as the eye can see. But under the surface, the emotions are the same. Don't let the long-winded, even toned addresses fool you: there's a fight going on for the survival of millions of people and many nations around the world.