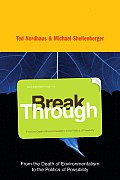 Editor's note: This is part 5 (of 5) of the serialized introduction to Break Through: From the Death of Environmentalist to the Politics of Possibility, Ted Nordhaus and Michael Shellenberger's latest book.
Here are the other sections of the Introduction: [Part 1] [Part 2] [Part 3] [Part 4] Part 5
"From the Nightmare to the Dream" – Introduction to Break Through: From the Death of Environmentalism to the Politics of Possibility (Part 5 of 5)
8.

The politics we propose breaks with several widely accepted, largely unconscious distinctions, such as those between humans and nature, the community and the individual, and the government and the market. Few things have hampered environmentalism more than its longstanding position that limits to growth are the remedy for ecological crises. We argue for an explicitly pro-growth agenda that defines the kind of prosperity we believe is necessary to improve the quality of human life and to overcome ecological crises.
One of the places where this politics of possibility takes concrete form is at the intersection of investment and innovation. There is simply no way we can achieve an 80 percent reduction in greenhouse gas emissions without creating breakthrough technologies that do not pollute. This is not just our opinion but also that of the United Nations International Panel on Climate Change, of Nicholas Stern, the former chief economist of the World Bank, and of top energy experts worldwide. Unfortunately, as a result of twenty years of cuts in funding research and development in energy, we are still a long way from even beginning to create these breakthroughs.
The transition to a clean-energy economy should be modeled not on pollution control efforts, like the one on acid rain, but rather on past investments in infrastructure, such as railroads and highways, as well as on research and development—microchips, medicines, and the Internet, among other areas. This innovation-centered framework makes sense not only for the long-term expansion of individual freedom, possibility, and choice that characterize modern democratic nations, but also for the cultural peculiarities of the United States.
In 1840, Alexis de Tocqueville observed that "in the United States, there is no limit to the inventiveness of man to discover ways of increasing wealth and to satisfy the public's needs." Rather than limiting the aspirations of Americans, we believe that we should harness them in order to, in Tocqueville's words, "make new discoveries to increase the general prosperity, which, when made, they pass eagerly to the mass of people."
The good news is that, at the very moment when we find ourselves facing new problems, from global warming to postmaterialist insecurity, new social and economic forces are emerging to overcome them. The new high-tech businesses and the new creative class may become a political force for a new, postindustrial social contract and a new clean-energy economy.
One inspiring model for overcoming adversity can be found in the formation, after World War II, of what would later become the European Union. It was in the postwar years that the United States, France, Britain, and West Germany invested billions in the European Coal and Steel Community, which existed to rebuild war-torn nations and repair relations between former enemies, and which grew to become the greatest economic power the world has ever seen. Today's European Union wouldn't exist had it not been for a massive, shared global investment in energy. It's not hard to imagine what a similar approach to clean energy might do for countries like the United States, China, and India.
Environmentalism offered something profoundly important to America and the world. It inspired an appreciation for, and an awe of the beauty and majesty of, the nonhuman world. It focused our attention on future generations and our responsibility toward them. And it called upon people to take valiant risks, from saving rain forests and whales to inventing wondrous new technologies that will help us overcome the ecological crises we face.
But environmentalism has also saddled us with the albatross we call the politics of limits, which seeks to constrain human ambition, aspiration, and power rather than unleash and direct them. In focusing attention so exclusively on the nonhuman worlds that have been lost rather than including the astonishing human world that has been created, environmentalists have felt more resentment than gratitude for the efforts of those who came before us. And the "rational" environmentalist focus on just fixing what's wrong with the present narrows our vision at a time when we desperately need to expand it.
There are various expressions of environmentalism, and we have done our best to describe them with reference to specific events, leaders, and ideas. There are important differences between them, which we point out, but there are also striking similarities. In describing the conceptual underpinnings these different expressions of environmentalism share, some readers will no doubt feel that we have overgeneralized. But those readers who do not see themselves in our descriptions and definitions of environmentalism might consider whether they themselves have already moved beyond environmentalism.
Others will wonder why, with our embrace of markets and prosperity, we don't just call the politics we are proposing a "new environmentalism." The reason has everything to do with our central argument: if we are to overcome ecological crises, we must no longer put concepts like nature or "the environment" at the center of our politics.
9.
When you really consider how monumental the ecological crises are, and how much they are an outgrowth of firmly rooted ways of being in the world, it is hard not to feel overwhelmed. And while fear is an appropriate response to crisis, it matters what we do with it. Fear may be inevitable, but despair is a choice.
With Abraham Lincoln at his back and Congress before him, Martin Luther King felt fear and resentment, and he expressed those dark feelings. But then he stopped himself midspeech. Perhaps he felt the crowd's wishes. Perhaps he heard Mahalia Jackson's cry. Perhaps he had scared himself sensible. Whatever the reason, consciously or unconsciously, King made a choice.
Today we have new choices to make. We must choose between a politics of limits and a politics of possibility; a focus on investment and assets and a focus on regulation and deficits; and a discourse of affluence and a discourse of insecurity. And, most of all, we must choose between a resentful narrative of tragedy and a grateful narrative of overcoming.
In the end, it was probably for the best that King gave a nightmare speech before giving the dream speech. Had he ignored his feelings of frustration and anger, his dream speech would not have been nearly as powerful. Had he avoided the dark valley, the mountaintop would not have been as high or as bright.
We will, to be sure, always call it the "I have a dream" speech. But we should never forget that it all began with a nightmare—one that King, and America with him, overcame.
That concludes the serialized introduction of Break Through.  If you've been intrigued, pick up a copy of the book and read on…
Here are the other sections of the Introduction: [Part 1] [Part 2] [Part 3] [Part 4] Part 5